the weekend was good. me and Jim went out for dinner on friday night. it was good, but I was wearing new green shoes all day which made what I thought was just my tights completely green, but actually turned out to have impregnated into my feet. ugh. also I have like 4 blisters on my toes. ouchy. we came back here on saturday night... Jim did lots of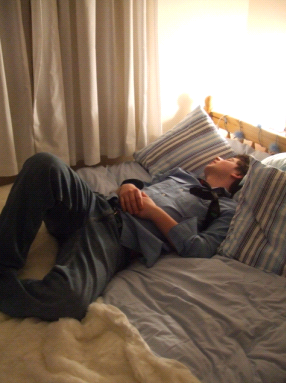 [how cute is he asleep?] and I watched lots of sex and the city. the sunday we just went shopping and things. I bought a lovely skirt which wasn't in the sale as I anticipated so it was £40. oops.


today is the last day of the diet. I seem to have lost weight so all is good. I am so glad to actually be able to eat a sandwich for lunch. woo.


now must go to sainsbury's for food. tonight is murder on the orient express. yay!